Tweet
So if you have never checked out
Memories in Mosiacs
shop now is the perfect time. She has the most unique patterns and her work looks great. I need a new shelf in my little area and think this one would be a great touch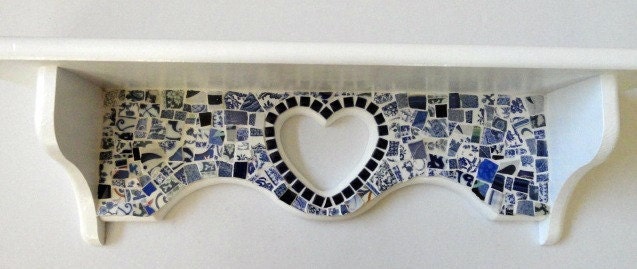 Memeories in Mosiac has a awesome background story which I want to share,
"I first started doing mosaics after I had seen a bathroom in the "Parade of Homes" in Denver. They had taken tiles of all kinds and made a really funky backsplash in one of the bathrooms. I immediately decided to experiment with my own guest bath and not only did the backsplash but also the entire top. From there I moved to table tops for myself and all my friends and family. At that time I was using a hammer to break large floor tiles into small enough pieces.

A few years later I inherited lots of costume jewelry from my Mother-in-law and wanted to find some way of displaying it so I started playing with putting the pieces into a mosaic around a mirror. It took me a while to figure out what worked and what didn't, but the learning process was well worth it. Both of my sisters loved the idea and sent me some of their jewelry along with pieces of dishes that had broken, old doorknobs and even some unusual buttons to make their keepsake or "Memory" mirror. This is how "Memories in Mosaics" started."

Her area is neat and organized and well decorated. I just reorganized my stuff again and it took me two weeks. I have made a mid-year resolution not to do that again (let it get messy or not reorganize I haven't decided).
Everything is so neat and organize I almost feel the need to clean my house again when I see her pictures. LOL. I think I may resist that urge for the moment. These are her finished pieces as well as her uncut dishes ready for her to work with. Did I mention her husband made these shelves for her? What a great husband!!!!
Although I must amit I am totally wondering about the white heels on the shelf!! They are totally something I would wear. Although it would totally intrigue me if she was going to try and mosiac them.
Back on topic here though. She told me she keeps a folder on her computer when she finds fun designs. She uses photos, magazines, fabric and greeting cards as inspiration for her work. She has a great background in Interior Design of 10 years that she uses daily with her work.
She said "It's really not that much different from decorating a room-just a lot cheaper."

She also likes to keep personal things around her. Photos of her kids, keepsakes from her childhood, inspirational words and phrases and her I Love Lucy Collection. Which I assume she watches on the nice tv in her space while she works. Whistle while you work or in her case watch I Love Lucy while you work. ta ta da da da da ta.
Her must precious piece of equipment in her spacer is her wheeled cutters. They are what she uses to cut dishes into tiles and tiles into shapes. She uses these nearly every day in some way.
Pictured above is one of her storage tips for you today.
"Organization is key for me. I want to be able to easily find the colors of tiles and gems I need for a project. I use "Crystal Lite" containers for my gems (half marbles) and glue one on top so I know what color is in that container. They are all sitting on a 3" x 50" shelf my husband made that sits at the back of my desk. I also glued a tile of each color and style I carry on a 1" wide stick and attached it to the shelf so I can quickly determine what color I need without having to go through piles of tile sheets.
My last tip is keeping my cut dish tiles in color coded plastic boxes. If I'm doing a custom mosaic and my client wants mostly purple, I can quickly see what I have. In the 2 black bookshelves (pictured above with the tv) is where I keep all my loose tiles (in preserve jars), tools, extra gems, and piles of tile sheets."
Thank you Memories in Mosiacs for sharing your space and reminding us to stay neat and organized so that we can be more efficient while we work.
Enjoy,
Barbara