Tweet
DMC Jewerly's shoe box to hold all her supplies has grown into a walk in closet over the years as she has collected items to become jewelry.This closet is her area in the house for her hobby and job. What a wonderful sentence huh? To have a job that is your hobby, it means you enjoy what you do!!!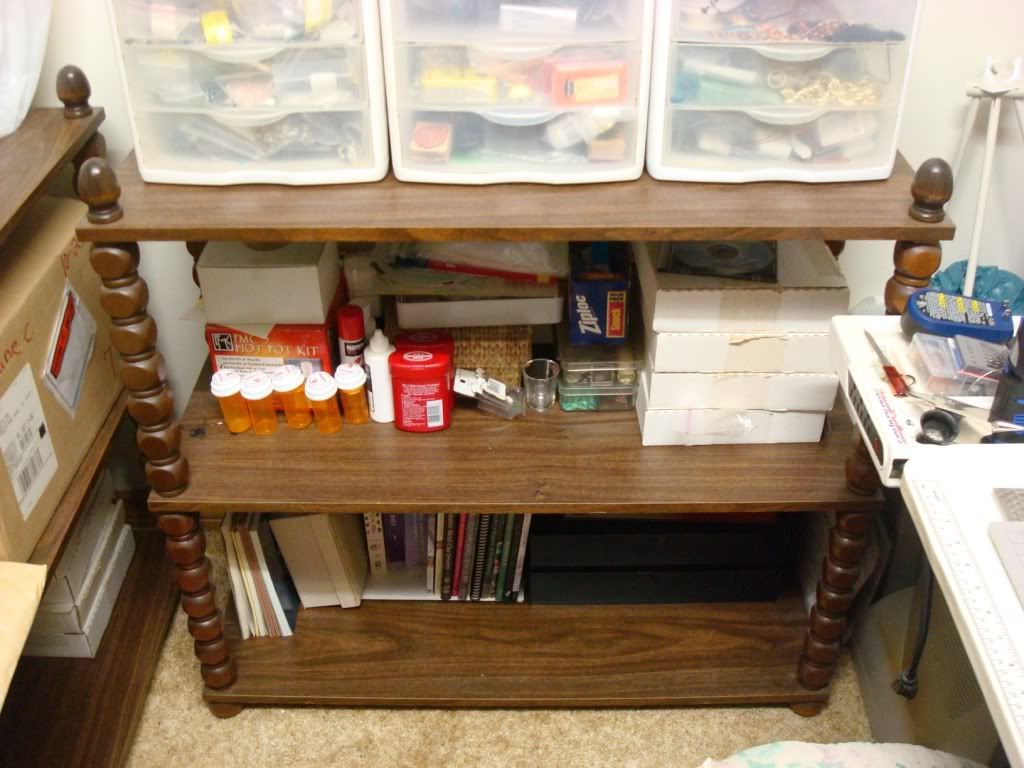 The plastic containers above hold PMC clay, polymer clay, lampwork supplies, and miscellaneous "impulse" buys that haven't sparked any ideas yet. Things she doesn't need daily.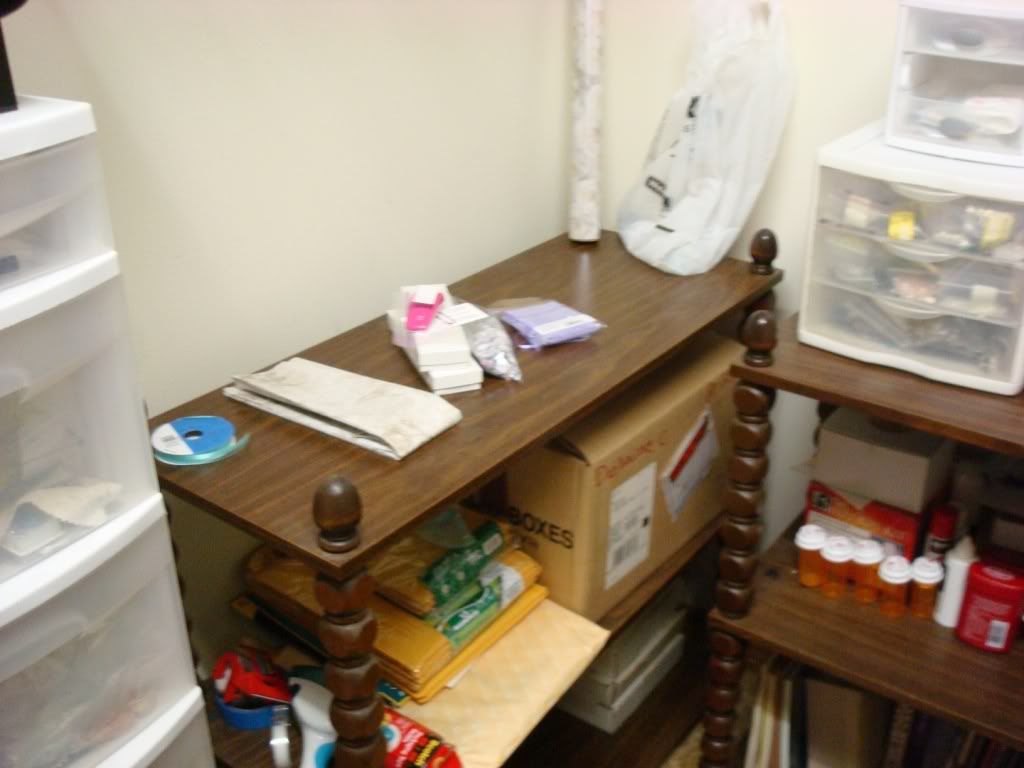 She was even able to include a shipping station in her corner. I am glad she was willing to share even though she did not have a whole room because it reminded me that it is not required for me to have a whole room to be successful at my hobby. I was pining over all the rooms I have been featuring thus far. So it is a good reality check for me.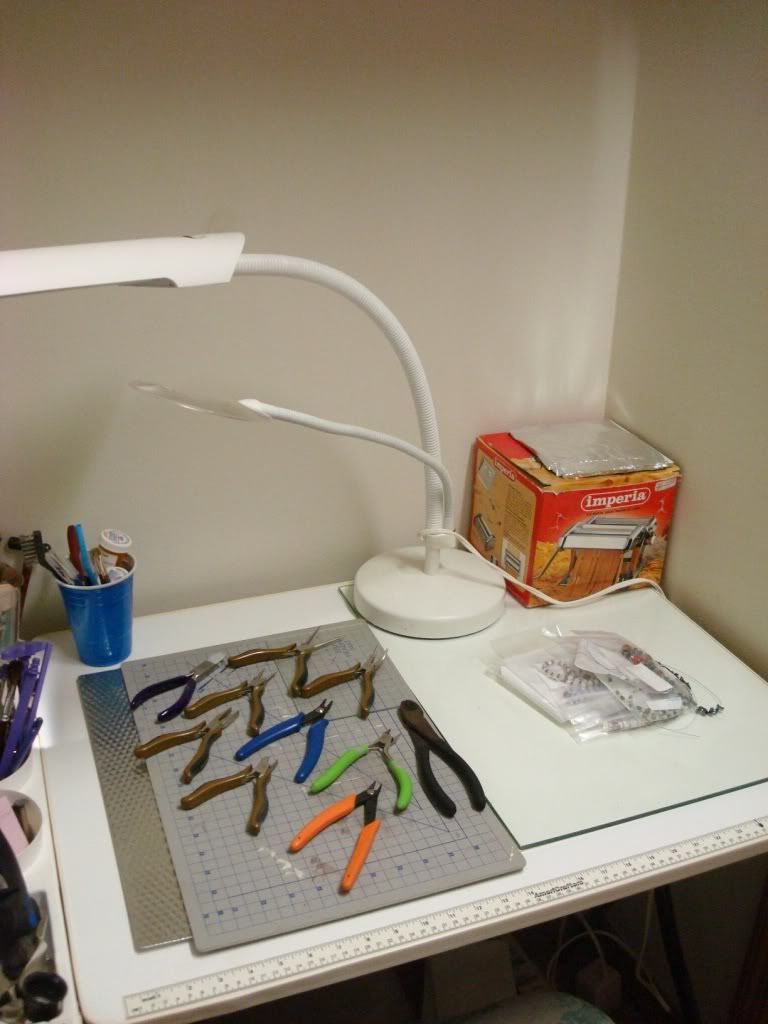 Above is some of her tools which she confessed was staged for the picture because she was "trying to give the impression of being tidy. Which she is not by any stretch of the imagination." I think I mentioned this before I have a quote that I love and it goes "I am creative, so you can't expect me to be clean as well." I really want to put that up on my wall oneday.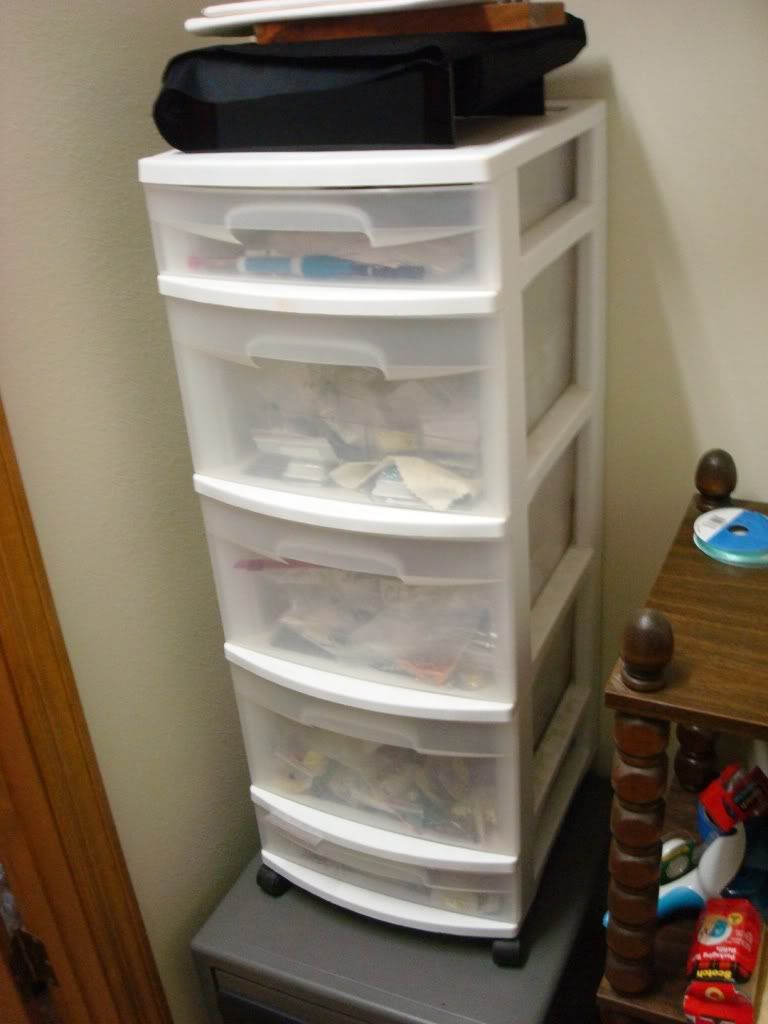 This rolling storage box holds all of her gemstones, crystals, pearls, silver, wires etc. It weighs too much to roll anymore. Or move at all she said. LOL. I had a storage tower very similar that fell apart from so much love.
This is where she actually works and this is her supervisor, Max. "He likes to keep a close eye on my progress. I have an awesome view from the window which sometimes makes it hard to concentrate but also inspires me now and then." she said.
I didn't catch anything that she couldn't live without but she did mention a major pearl addiction. She sounded like me and fabric. I have destashed so many times it's not even funny.
Something she shared about herself- "Aside from making jewelry, I like to be creative in other ways as well. I like to cook, especially fiddly appetizers that my husband refers to as "chick food". I love to play in the dirt so I have several gardens even though it's challenging to keep anything alive during the summer months. I like to photograph, especially when we're out on the lakes here in Leesburg. Those photos often inspire some of my color schemes. If the colors work in nature, they'll work in your creations. Sometimes with stunning results."
Nature is a very common in a lot of people's work. I was not too surprised by her love of it. I liked getting to know more about her other hobbies and her storage tip to pass on to you....
Prescription Bottles.
"I've recently started to repurpose empty prescription bottles for my gemstones. Friends and family have given me nearly enough for all of them. All are labeled so I can find what I need and the dark plastic keeps the stones safe from too much sunlight."
I was very glad to hear from Delaine at DMC Jewelry and enjoyed sharing her space with you!!!
Enjoy
Barbara